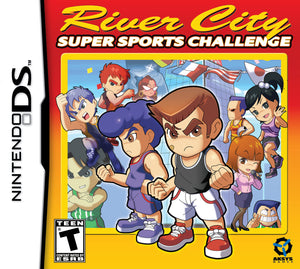 River City Sports Challenge - Nintendo DS™
Battle against the worst of the best from high schools far and wide in a wide variety of sports and activities in order to be recognized as the toughest of the tough. Are you a bad enough dude to join Kunio in his fight for supremacy against the mysterious Tobioka Conglomerate in the Super Sports Challenge?!
Key Features
Myriad of Teams to Play: Choose from six school teams to play, each with six unique teammates wielding crazy fighting moves like Human Bomb, Pizza Shot, and Mach Strike!
Multiple Events to Conquer: Go toe-to-toe with some of the toughest delinquents in a plethora of high-octane events. Choose to crush your rivals in events like Cross Country Racing, Obstacle Room, Treasure Scramble and Tournament Fight.
Super-Challenge Mode: Complete missions, develop your martial skills, and collect customization options for your team, such as hairstyles, hair colors, face models, and complexion in Edit Character Mode. You can also modify your team's stats by adjusting their stamina, punching and kicking prowess, and weapon skills.
Network Battle Royale: Play any of the events in this Free Battle mode! Play against the CPU or up to 4 players through the Download Battle option. Choose your favorite team, stage, and event order.
---
We Also Recommend
---